MAKE A STATEMENT ON THE WATER!
Accessorize your boat with a flagpole made of stainless steel. This is the original flagpole that was once only available directly from Cobalt or through your local Cobalt dealer. As the original manufacturer, we are now supplying directly to the dealers. See our list for dealers near you. If there isn't one near you - contact us - we'll take care of you. Don't be fooled by imitations or knock offs. As always, our poles are proudly made in the USA with ALL American made materials.
Specially made orange skier down flags and sewn US Flags are also available at a
dealer near you
. You may purchase your flagpole set with or without the flag. Flags are available separately as well.
Each standard flagpole kit comes with a 3 foot pole and a quarter turn twist spring locking deck mount. 2 eyelets let you fly a standard 16" x 24" flag. Quick links are included. Find a dealer near you.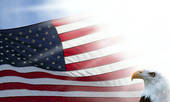 Proudly Made in Wichita, Kansas